Tbilsi State Medical University (100 Years Old)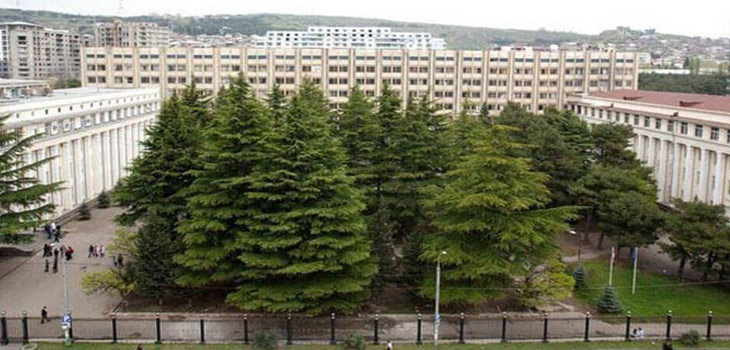 About the university
| | | |
| --- | --- | --- |
| City | : | Tbilsi |
| Country | : | Georgia |
| Degree Awarded | : | M.D. Physician (Undergraduate program) |
| Duration | : | 6 Years |
| Language of Instruction | : | English |
| Study Fee | : | 4.6 Lakhs per year |
Tbilisi State Medical University is one of the best medical Universities in Caucasus Region. TSMU was founded as Tbilisi Medical Institute in 1918 and became the Faculty of Medicine within the Tbilisi State University in 1930. It is rated number one in the whole of Georgia. The primary mission of the Tbilisi State Medical University is the preservation, advancement, and dissemination of knowledge; To provide academic programs, services, facilities, and technologies that support team-based learning and contribute to students' intellectual development and person growth; To coach and prepare students for job placement and career success, utilizing a network of professional and business contacts; To instill the importance of ethical behavior, responsibility, and professional standards.
If we had to pick one word to convey what distinguished the University in the beginning, what makes it special now and what will remain its defining characteristic,itwouldbe'quality'.Although the people in Georgia have their own language the university follows English medium for its overseas students. Among the list of countries represented are India, Armenia, Sri Lanka, United States of America, Nigeria, Ghana, Turkey, Azerbaijan, Trinidad and Tobago etc.
The yearly fee for the university is $3500 at present which can be paid as two semesters from the second year onward. The university follows European Union syllabus which makes it simpler for the transfer students. The overall duration in case of the MD [Diploma In Medicine course is 6 years which is divided into 2 years of basic, 1 year of pre-clinical and 3 years of clinical courses. In each class there may be around 10-14 students and regarding the infrastructure of the classes. This gives a stronger Lecturer to student relationship.
The classes are furnished and equipped with heating facilities to withstand the freezing conditions during winter. The university has a library which has collection of medical and medical related books in English and other foreign languages with reading halls giving students a peaceful place to study. There is also an additional computer hall with internet connection for any additional cross references. The university also holds yearly cultural meet for the foreign students separately which enables the students from different cultures to put forward their talents. There are also many conferences where many professors throughout the world visit the university delivering lectures to the student and thus giving them a wide exposure of their field.