Plovdiv Medical university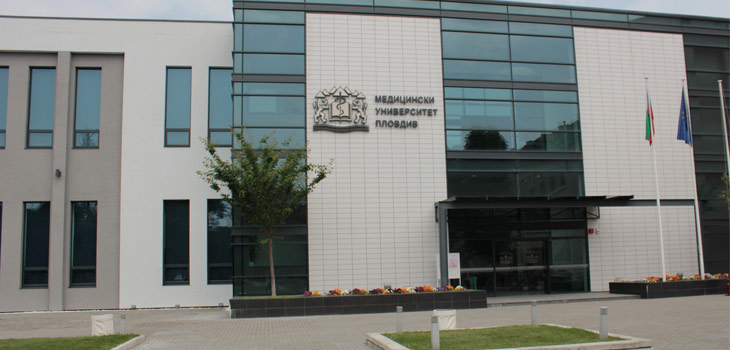 About the university
| | | |
| --- | --- | --- |
| City | : | Plovdiv |
| Country | : | Bulgaria |
| Degree Awarded | : | M.D. Physician (Undergraduate program) |
| Duration | : | 5 Years |
| Language of Instruction | : | English |
| Study Fee | : | 6.2 Lakhs per year |
The Plovdiv Medical University, founded in 1945, is a modern public university consisting of four schools. (Medicine, Dentistry, Pharmacy, and Healthcare) The university employs over 130 professors and 600 deputy and assistant professors.
All professors are well respected scientists and have completed research for several international scientific magazines and journals.
The university is home to over 3,800 native and international students, studying for courses including bachelor, postgraduate, masters, doctorate, and post-doctorate programmes.
The university library is stocked with high quality educational and academic material, with more than 170,000 volumes of material in a variety of languages. The university is responsible for the publication of the Folia Medica", one of the most well respected medical magazines in Bulgaria since 1959. Young scientists studying at the university can enter their work into the "Youth & Science" competition run by the Minority Scientific Association every year.
The university has a fully experienced staff which functions in the ratio of 20:01 in the classrooms.
Students in this university are always ahead of other students in terms of quality education. The education is quite affordable which adds more to its charm among the international students. Currently the university houses more than 1000 local students and around 400 international students in its 4 hostels. The university has also the facility of providing Indian food to the Indian students as there is a large number of Indian students over there.
About the program Medicine
The medicine course is an entirely English-taught programme and lasts six years. The first two years focus on pre-clinical study and theory with the next three years focusing predominantly on clinical study.
The programme finishes with an internship year of medical rotations in the lead up to graduation. Students are required to take state exams for licensing during this period.
All course curriculum, laboratory work, and research assignments are in line with EU requirements. Summer practical internships are obligatory for students in their 2nd, 3rd and 4th year of studies.
Once the entire programme is completed and state exams have been passed, students will become a Physician or Doctor of Medicine (MD) and receive a master's degree. While some graduates continue their specialisation choices in Bulgaria, the degree and license are fully recognised worldwide.
Graduates of Bulgarian universities who practice and hold medical qualifications internationally are in the thousands.