Smolensk state medical university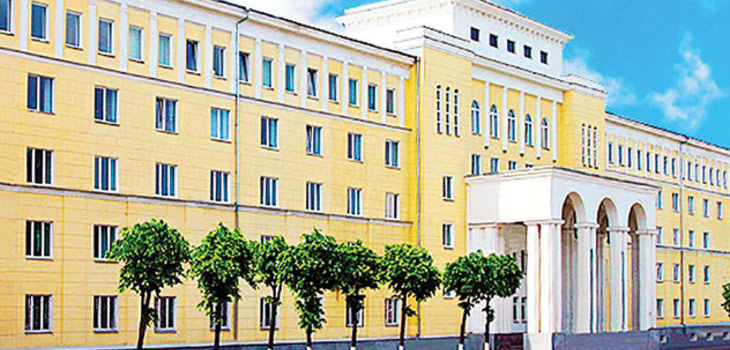 About the university
| | | |
| --- | --- | --- |
| City | : | Smolensk |
| Country | : | Russia |
| Degree Awarded | : | M.D. Physician (Undergraduate program) |
| Duration | : | 6 Years |
| Language of Instruction | : | English |
| Study Fee | : | 3.5 Lakhs per year |
SSMU was established in 1920, is one of top Medical Universities of Russia, located in the Smolensk city, 360 kilometers (220 mi) west-southwest of Moscow. The Smolensk State Medical Academy is a fully licensed higher school and is a centre of medical education and science. The SSMA is one of the leaders in doctors' training, medical research, curative and preventive activities. It trains medical and pharmaceutical specialists for various regions of Russia as well as for a number of overseas countries.
The Smolensk State Medical Academy has 65 Departments located in the campus and on the basis of the leading health care units of the town. 450 teachers and professors work at the Academy including 92 Doctors of Medicine (MD) and 281 Candidates of Sciences (PhD).
Students are trained in General Medicine, Dentistry, Children's Diseases, Pharmacology and Nursing. Particular attention is paid to the students' training and organization of the training process. To improve the quality of the students' training the Principle Methodical Council, the Department of Education and Management have been set up. The Smolensk State Medical Academy is aimed at implementing up-to-date methods of training, more active application of modern information techniques in the educational and self-education process. Teaching hospitals of the SSMA are provided with up-to date equipment to diagnose and treat various diseases. Active involvement of medical students into the process gives students a good chance to learn advanced medical techniques.
Smolensk University Campus and Hostels
The Smolensk State Medical Academy is constructed in a campus system i.e. educational buildings, library, mess, hostels, sport complexes; play ground, cultural complexes and park are situated in one campus. The Smolensk State Medical Academy has its own security surveillance system with its own commando guards for the safety of its students and campus There are 4 hostels, which can accommodate more than 2000 students. All the hostels are flat type i.e. with attached bathroom, toilet and kitchen. The hostels are centrally heated. The hostels are fully furnished. The basic system is two students in one room. Separate arrangements for boys and girls.